EMPOWER POTENTIAL 
Many children get swept up into what their peers are doing, but research shows that having another caring adult on their side helps Littles make good decisions and avoid risky behaviors.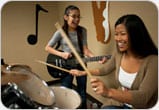 The Girl's Got Swagger Cindy and her Big Sister see eye-to-eye, but not just because they are both well under 5 feet tall. The pair have so much in common that it's as if they've been friends for their entire lives. However, before Cindy met Kate, she was shy and...
read more
READY TO ENROLL YOUR CHILD?