Thank you in advance to all of the volunteers, staff and road crew for making this a safe and high-quality ride for all who participate. 
---
2018 Route Maps
Click Maps to Link to Route Details
19M ROUTE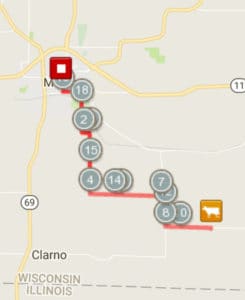 Rolling hills and rustic rural roads lead to Maple Leaf Cheese.
50M ROUTE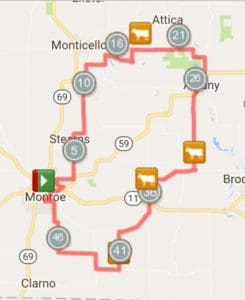 Rolling hills and rustic rural roads.
---
Use Daytime strobe lights for safety. Be Bright…Use a Light
2018 Tour de Cheese Bicycle Ride
Saturday, August 11, 2018
Join us for a great event benefiting Big Brothers Big Sisters of Green County. Riders will travel along a 15 or 50 mile Biking Enthusiast Supported Course through Green County Wisconsin. Rest Stops at Cheese Factories Along the Routes including, Maple Leaf, Grande Cheese, Silver Lewis, Decatur Dairy.  Sample Artisan Cheese, refreshing drinks, tasty food, and take in the late summer weather. Enjoy live music as only Green County can offer as you return from your ride at the registration building lot! Music provided by the Junction Jammers.
---
Event Details 
8AM – 2 PM Supported Ride
Biking Enthusiast Routes
Registration Fee – $45.00 per rider
7:30 – 9:30 AM Registration Day of Event
NEW HARD START TIMES 
50 Mile Route Start Time: 8:00AM
19 Mile Route Start Time: 10:00AM
Monroe Middle School, 
1220 16th Ave,
Monroe, WI, 53566[/vc_column_text][/vc_column_inner][vc_column_inner width="1/2″][vc_empty_space height="16px"][vc_column_text]
---
Come for the ride…stay for the Green County Experience (Click for More Info)
---
Sponsor the Tour de Cheese Event
---
Rider Registration for the 2018 Tour de Cheese Bicycle Ride
Registration Fees Are Nonrefundable. Must be 18 to register. Riders registered before July 27th, 2018 will receive a event t-shirt. Event t-shirts are not guaranteed to those who register after this date or the day of the event.
ONLINE PRE-REGISTRATION IS NOW CLOSED, YOU MAY REGISTER THE MORNING OF THE EVENT AND PAY WITH CASH OR PERSONAL CHECK!
2018 Sponsor List
Platinum Partner ($5,000)
Klondike Cheese /Odyssey
---
Hope Builder Sponsor ($700)
Colony Brands
---
Pathfinder Sponsor ($300)
Alpine Slicing & Cheese Conversion
Badger State Ethanol
Monroe Clinic
US Cellular/Radio Shack
---
Map Sponsors (below $300)
Hennessey Implement
Fitness Nutrition Center
---
In-kind donors
Bike Haus
Decatur Dairy
Grande Cheese
Junction Jammers
Kate Douma, LLC
Maple Leaf Cheese Sales
Silver Lewis